Electric High Pressure Sand Probe Relay (Model 1SE5)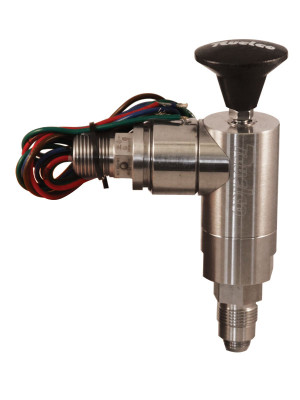 The Ruelco high pressure sand probe relay utilizes a thin wall steel probe installed directly in the flowline to detect and indicate that excessive erosion or corrosion has occurred. It is installed directly into a 15,000 PSI flowline using the 1″ medium pressure connection. The relay utilizes a reliable SPDT or DPDT microswitch which can be operated normally open or normally closed and also provides visual indication that the probe has lost pressure integrity. This alerts field personnel that inspection of the flowline and possible repair may be required.
316 stainless steel contruction (models to NACE MR0175 available).
Will operate with flowline pressures as high as 15,000 PSI.
Viton O-rings are utilized for dependability.
"Red band" on shaft provides visual indication that sand probe relay has opened.
Knob provided for manual testing.
SPDT or DPDT microswitch available.
Probes for 2″ to 4″ pipe available.
Contact Us
Can't find what you're looking for? Have a question about a specific product? Send us a message and we'll be in contact with you soon.