Universal Manual Reset Relay (Model 1600)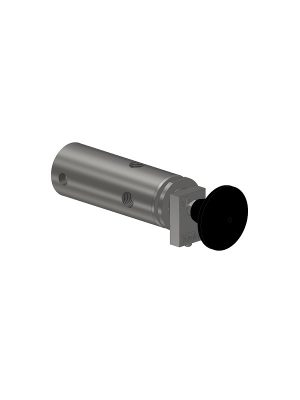 The Ruelco Universal Manual Reset Relay is a pilot operated, spring return, universally ported, manual relay. It operates as a 3-way, block and bleed, relay valve with a palm knob for posi-tion indication and manual operation. It can be used as either in the Normally Open or Normally Closed position. In the closed position, the inlet signal will be blocked from reaching the out-let port, until the knob is manually pulled into service. The de-tent will allow the relay to maintain this state until a pilot signal becomes present. Once in this configuration, the relay is armed and will shut, venting the outlet pressure, with a drop in pilot signal or a manual push on the knob. The relay will remain closed until the knob is manually pulled into service again.
316 stainless steel construction (models to N.A.C.E. MR0175 available).
Large Cv factor assures fast system response.
Lock Closed design prevents relay from automatically opening.
Design minimizes malfunctions due to supply system debris.
Inconel X-750 springs assures dependability in most corrosive environments.
Contact Us
Can't find what you're looking for? Have a question about a specific product? Send us a message and we'll be in contact with you soon.